A while back I wrote about how useful I was finding the iPad for lifelong learning. It occurred to me more recently that I should start featuring "apps" that readers might find useful. So, consider this the official launch of a new Learning Apps tag here on Mission to Learn. The first post is from Peter Song, who wants readers to know about SpeedUpTV. I've had a look, and I think it could definitely be a great addition to your lifelong learning tool kit. Like most apps, it doesn't cost much ($2.99), but if you want a free download for your iPad or iPhone, be one of the first four people to comment on this post. (All out of freebies at this point.)- Jeff

Here's what Peter has to say:
Studying on mobile devices can be a pain, especially when it involves switching between digital notes, videos, lecture recordings and image graphs. Thankfully for iOS users, a new app promises to simplify the task of studying on an iPhone, iPod Touch or iPad as well as offer a wide range of new features that aid in the overall studying process and also improve your foreign language listening comprehension as well.
Despite the name, SpeedUpTV is not a glorified video viewer. SpeedUpTV not only allows you to view video files, but many image, audio and document files are supported as well. With its video viewer, a list of features has been added including the ability to increase and decrease the playback speed of video files. The range for this playback rate is between 0.5X and 2.0X. Best of all, slowing or speeding up video playback does not distort the audio which should come in handy for those trying to learn a foreign language from a set of video tutorials.
Other video playback features include pinch-to-zoom which allows skipping between scenes as well as scrubbing for more precise time control. There is also support for SMI subtitles and A-B repeat.
Other than video playback, users are able to view document files such as PDF, doc, xls and ppt. Users can also listen to audio files and view jpeg and png image files. Thanks to this wide range of file extension support, students can carry out practically all of their studying straight from the app, no more switching between picture viewers, document viewers and iTunes on an iOS device to study; everything is in one centralized location.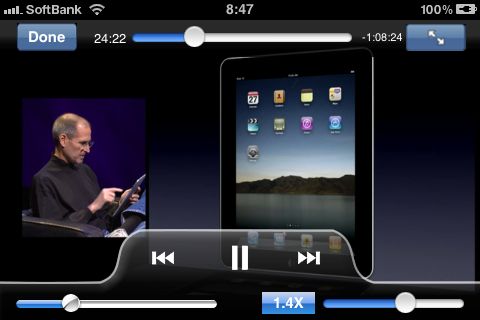 For iPhone and iPad users, this app will help them in many different ways, and it is a must for students trying to learn foreign new languages. It's moderately priced, making it a great choice for students (and everyone else), and it's a fantastic way to make learning fun and efficient.
P.S. – If you have an app you would like to see featured on Mission to Learn, drop me a line. – Jeff