If you are a dyed-in-the-wool book lover like I am, you know that immersing yourself in a book or in the literary culture is a great way to get more out of the books you read. There are thousands of sites online created specifically for people who like to read. Many of these sites can be used to find, read, discuss, and share books online. Here is a list of 15 free online resources that any book lover will enjoy:
AddAll – AddAll is a free book search and comparison site. It compares prices on books from more than 20,000 sellers so that book buyers can get the best deal possible when shopping online.
aNobii – aNobii is a book community that allows users to comment on books, create "online bookshelves," and mingle with other book lovers.
Barnes& Noble – The online presence of Barnes & Noble is more than just a place to buy books. This site also offers book reviews, a forum where readers can connect, regular columns, articles, and much more.
Big Universe – This award winning web community is an excellent resource for the young book lover. Big Universe users can read books online, create and publish their own works, recommend books, and much more.
BookMooch – BookMooch is a free online service that allows readers to give away the books they no longer want and get new books in return. BookMooch users can get two books for every one they give away.
Goodreads – Goodreads is an enormous social network with nearly 3 million reading members. At Goodreads, you can make a list of the books you have read, write reviews, and get book recommendations from other people.
LibraryThing – LibraryThing is a good place to catalog your books online. Catalogs can be accessed from any PC or mobile phone and may be made public or kept private. LibraryThing also allows users to give and get book recommendations.
LitLovers – LitLovers is a site for books and book clubs. Offerings include book recommendations, reading guides, discussion topics, free literature courses, and a special section just for kids.
Project Gutenberg – Project Gutenberg was the very first site to offer free ebooks online and is still one of the web's best sources of free books in the public domain. More than 30,000 books are available through the site's catalog.
ReadingGroupGuides – This site provides thousands of reading guides for book clubs and the individual book lover. The site also offers contests, message boards, a newsletter, a blog, and much more.
Readups – A reading experience where you share comments and invite folks through Twitter.
The Book Cover Archive – They say you can't judge a book by its cover, but that doesn't make cover art any less fun to look at. The Book Cover Archive displays a collection of thousands of book covers. Visitors can browse covers, leave comments, and suggest covers for the archive.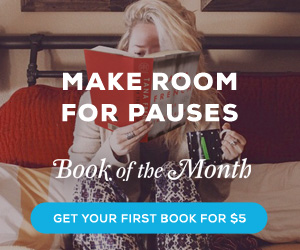 If you are a bona fide book lover like me, you are probably always looking for great new reads. The
Book of the Month Club
is a great way to find them. You'll get great suggestions – and great discounts – monthly.
Check out Book of the Month today!